We all know that if you want to get ahead in today's competitive business world, you need to be active online. That doesn't just mean having a website or setting up a social media account. Building an online presence requires a carefully-designed digital marketing strategy – something that 49% of today's companies simply don't have.
Perhaps one of the biggest things holding companies back from a solid marketing campaign is that there are so many different strategies out there, it's hard to know which one is best. Not only do you have to understand the nuances of sub-genres of marketing like social media and PPC, but you have to consider whether you're going to go down a "paid" or "organic" route with your advertising too.
In today's article, we're going to start exploring the full potential of marketing, with a conversation about content marketing vs. paid ads.
What are Paid Ads?
First things first.
Paid advertising is any form of marketing that you need to pay for. This means that it's different to owned marketing (things you already own, like your social channel or blog), and earned marketing (press releases, influencer shout outs, etc.).

Image source: Digital Marketing Academy
With paid advertising strategies, marketers offer money to the owner of certain sections of ad space, in exchange for the opportunity to use that space. The price for the ad space is generally settled with a bidding process between the ad space owner and the marketer.
What are the Benefits of Paid Ads?
Effective marketing campaigns capitalize on various channels for advertising purposes. Although paid ads cost more than earned or owned advertising, they're an effective way to earn brand awareness and exposure. Paid ads are generally displayed to users on the sides, bottoms, or tops of web pages, and you can pay more to have your ad shown on a page with excessive traffic.
There are plenty of reasons to invest in paid advertising, for instance:
Organic reach on social media is dropping: Since algorithm changes emerged to place friend and family-based posts over the posts of companies, organic reach on social media has declined. If you want to get to the top of Facebook, you'll need to consider paid advertising.
Ads are quite affordable: Paid ads aren't as expensive as you'd think. In most cases, you can set a daily spending limit to make sure that you don't exceed your budget for any specific ad. It's totally up to you what you want to spend.
Paid ads are highly measurable: There are plenty of ways to track the performance of your paid ads, which means that you can keep going back and tweaking your strategy for better ROI.
Ads are simple: Paying for ads to show your product and services to your customers is easy, working out the nuances of SEO and building a content marketing strategy can be hard – particularly if you're not a creative person.
You can remarket: With paid advertising, you can gather information from people who have already shown interest in your brand and use that data to target the same customer again. Facebook remarketing makes re-connecting incredibly easy.
What Are Some Types of Paid Advertising?
Paid advertising comes in many different shapes and sizes. For instance, you can invest in CPM strategies, PPC, or retargeting campaigns. Here are just some of the most common and popular forms of paid advertising:
CPM Marketing
Cost per thousand or "CPM" marketing is a form of marketing strategy where you pay a flat rate for your ads every time you get a thousand impressions from your ad. An impression is the number of times the ad location displays your ad and leaves an "impression" on a user. This means that it doesn't matter whether your ad was clicked or not.
CPMs are typically displayed ads – which means that they are visual in nature, but this isn't always the case. This type of advertising is pretty inexpensive, and it guarantees that you're going to get plenty of eyes on your content.
Pay Per Click
Pay per Click advertising, or PPC ads, are designed to draw clicks from your users. You pay for your ad placement every time someone clicks on one of your links. In other words, if no one sees your ads, or interacts with them, then you don't pay for anything. The click-through rate for an average paid ad is generally 2%. However, it can go up to 8% for highly-positioned paid ads.

Image source: Design Lobby
The price you pay for your ads will depend on the marketplace value of the keyword or phrase that you want to rank for. Clicks are very straightforward to track, so it's a great way to optimize your campaigns – and you only pay for the clicks you need.
Retargeting
Retargeting, or re-marketing depending on what you prefer to call it, can be an incredibly effective form of marketing strategy. However, you need a decent amount of traffic coming to your website before you can make the most of this campaign.
Retargeting works by placing a cookie – or a small piece of code on the browser of the people who come to your website. This means that you can anonymously follow that visitor around the web and serve display advertisements that remind them to come back and check out the products they were already looking at before. Since it can take several impressions for a customer to convert, it makes sense to connect with your audience as often as possible.
Display Ads
Finally, display ads or banner ads are a form of paid advertising intended to capture the attention of your target audience with visuals. Display ads are some of the oldest forms of paid advertising around – they've been on the internet since the very beginning.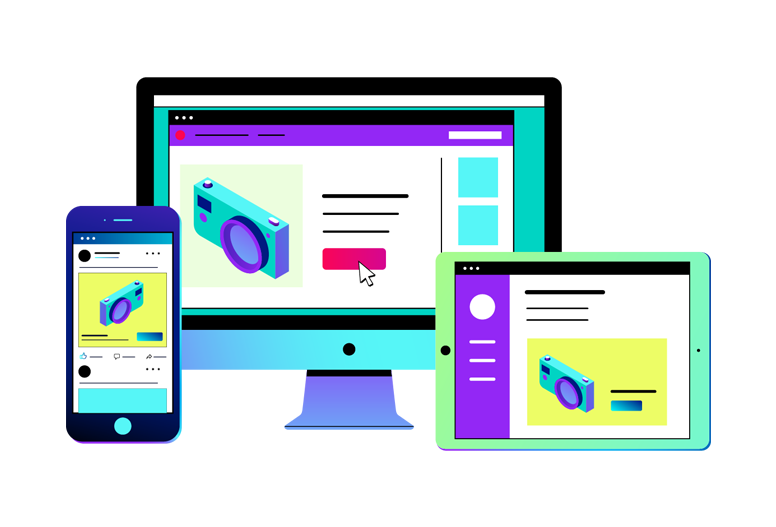 Image source: AdRoll
Display ads can be a great component of a paid advertising campaign, as images generally attract more attention than text. Additionally, a display ad has more online real estate to play with, so you can tell your customers more about your product or brand.
What is Content Marketing?
We've covered the basics of paid advertising; now it's time to look at content marketing.
Content marketing is the most natural form of marketing – it's the heart of what we do in the digital world today, and how businesses talk to customers and clients. Around 90% of companies are using some form of content marketing.
Essentially, content marketing is the process of using content – either video, images, social media, or text, to help you reach your marketing goals. With content marketing, you can reach new customers, retain existing ones, or simply make people more aware of the brand you have and the products or services you sell. Unfortunately, 70% of marketers don't have a consistent content strategy.
What are the Benefits of Content Marketing
The great thing about content marketing is that it thrives on sharing mutual value.
You give your customers something entertaining or informative, and they reward you with conversions and loyalty. What's more, people can actually promote your content marketing for you, by sharing it on social media when they learn something important or see something special. Some of the biggest advantages of content marketing include:
Higher visibility in the search engines: Every new piece of content you publish is a new page for Google to index. The more pages you have, the more likely you are to appear in the top pages of the search engines – provided that you're targeting the right keywords and phrases to engage your audience.
More word of mouth marketing: When you write or produce the correct content, you can transform your customers into advocates for your brand. Because people get value from your content, they'll share it with their friends and family members, which leads to referral traffic and word of mouth marketing. Since people trust recommendations, it's a great way to develop credibility for your company.
Decreased marketing costs and higher compounding value: Another great thing about content marketing is that you only have to pay for it once, but it keeps returning on value. The first few months you spend on content marketing might not give you much in the way of results, but you should start to see significant growth after that.
Stronger reputation: When people read content online, they use it to generate an opinion of a brand. If they find the content they read to be useful or informative, they think more highly of the brand and what it offers.
Stronger customer relationships: Content doesn't just help you to attract new audience members to your campaign, it can also help you to retain your audience too. The more content you share, the stronger your relationships become, and the more likely you are to end up with repeat clients.
What are Some Types of Content Marketing?
Around 60% of marketers create at least one piece of new content per day. Just like paid advertising, content comes in many different formats, each designed to engage a different kind of audience and drive specific goals. Here are just some of the most common types of content marketing.
Blogging
Blogging is probably the best-known and most popular form of content marketing. Around 53% of marketers say that blog content creation is their top priority when it comes to inbound marketing. Blog posts make up a central part of most content marketing strategies because blogs are easy to find on Google, and people love reading and sharing them.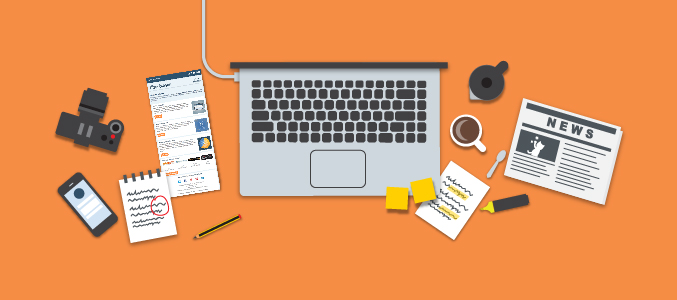 Image source: Majestic Blog
Additionally, blog posts are great for building up relationships with your readers, which can help with conversions and lead nurturing strategies. Maintaining a consistent blog strategy can also help to drive more traffic to your website.
Case Studies and Research
One of the best forms of content for people who want to make sure that they're showing their authority and credibility online, case studies are another great content marketing strategy. Case studies or research published about your accomplishments should cover everything from statistics, to graphs and visuals. These in-depth solutions are valuable for many reasons. For instance, research is highly shareable, because it's unique data, and it's also a great way to show your thought leadership.
The key to making the most out of data-driven content is to make sure that you're covering a topic that you know your audience is interested in. At the same time, devote as much time as possible to making your studies look and feel professional, double check statistics and ensure you're not making any mistakes.
Infographics
Visual content is growing more popular every year. In fact, 37% of marketers believe that image-based marketing is the most important content marketing strategy, exceeded only by blogging.

Image source: Sprout Social
Infographics are great because they allow you to pack plenty of useful information into a single image in a way that's highly digestible and interesting. If you've got a lot of different stats that you want to share in a case study, for example, it's much easier to share that information in an infographic than it is to ask someone to read through a long-form piece of content.
Infographics can be a great way to earn shares, and they can even go viral too, particularly if you share them on social media.
Video Marketing
Another powerful form of visual marketing is the recent rise of video. According to communications experts – Cisco, video content will make up around 80% of all internet traffic by 2019. In a world where people want to get their information or entertainment as quickly as possible, video offers an easily-digestible form of content, great for capturing attention.
There are plenty of different ways that you can engage with video content. For instance, you could host a live video session on Facebook, create a tutorial or guide with step by step instructions, or even publish interviews with industry experts.
Social Media Content
Finally, social media is one of the most important forms of content marketing in the world today. Although some people don't regard social media as content marketing, it's all about sharing pictures, text, and other forms of "content" that drive your marketing goals. The key to success on social media is making sure that you interact with the right channels and platforms.

Image source: ScribbleLive
Different customers will be drawn to specific social media strategies, so make sure you analyze your customer personas carefully before you start strategizing. Remember, you can be active on multiple different channels at once, but you may need a social media marketing tool to help you keep track.
Content Marketing vs Paid Ads
So, which is better, paid marketing or content marketing?
The simple answer is neither is the better choice.
Ultimately, the best marketing strategy depends on your specific needs. If you want a long-term approach to earning and keeping organic traffic, then you need content marketing. If you want to drive traffic and impressions quickly, then paid advertising might be the best way forward.
Many successful companies prefer to use a combination of paid and content marketing to help give them the most balanced strategy. Either way, the most important thing to remember is that you'll need to track your campaigns to ensure that you're getting the best results. The more you measure, the more you can optimize your strategy.