Today, the customer journey is more complicated than ever.
Companies can't just create television adverts and constantly call prospects to make a sale anymore. People expect the brands they like to try and build a relationship with them. Instead of casting wide nets and hoping for the best, marketers are forced to focus on generating the best leads they can through carefully-designed strategies to guide people along the path to purchase using various inbound marketing techniques.
While gathering traffic is great, it's not enough to simply have the right people visit your website or social media pages. Today's businesses must support each potential buyer with a strategy known as "lead nurturing."
In simple terms, "lead nurturing" is the process of turning leads into prospects. Remember, 96% of the visitors who comes to your website won't be ready to buy straight away.
Defining Lead Nurturing
The Difference between a Lead and a Prospect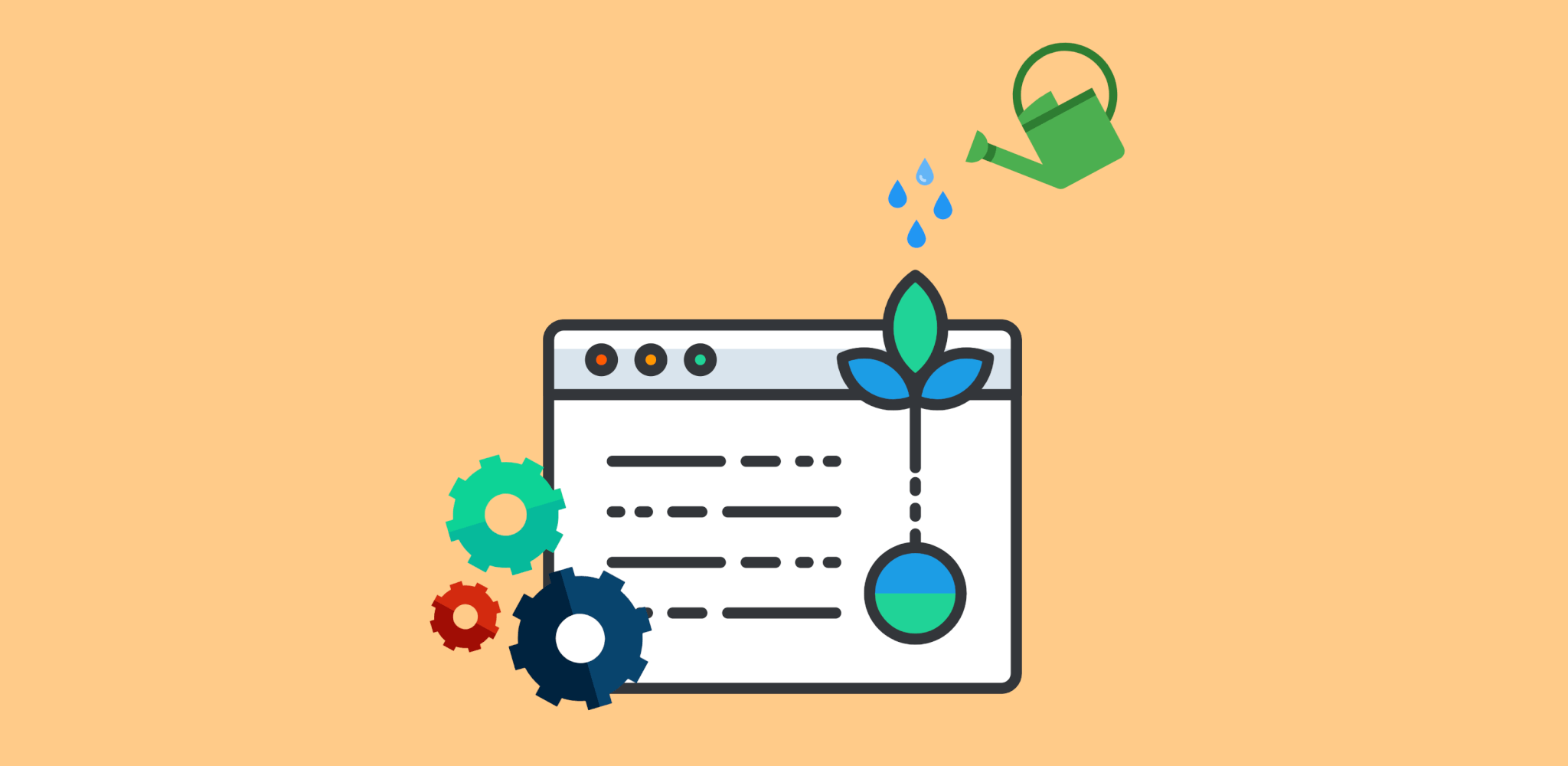 Image source: LeadFuze
Lead nurturing is how companies engage their target audience by providing them with relevant information to push them through each individual stage of the buyer journey. The right content and support positions a brand as the safest and best choice for the customer in question.
An effective nurturing process moves the leads you've created through your traffic generation efforts through the sales development process, until they become prospects, and buying customers. Importantly, although they're often used interchangeably, the terms "prospect" and "lead" aren't actually the same things.
A prospect is a potential customer qualified as fitting specific sets of criteria. For instance, you might know that a lead has become a prospect once you've determined that they:
Have the means to purchase your product or service
Fits with the demographics of your target market
Feels an interest in your product or service
Leads, on the other hand, haven't risen to prospect level yet, because they aren't ready to speak to your sales team. Your leads need extra guidance to push them into becoming a true prospect.
How Does Lead Nurturing Work?
Lead nurturing works to transform individuals that may have shown no previous interest in your offering, into potential customers. Most effective nurturing strategies will use a carefully-tailored combination of sales tactics and marketing to increase the potential of a possible prospect.
Importantly, there's more to lead nurturing than simply sending emails out to people once a week or a couple of times a month. Nurturing is a purposeful process, and 74% of companies say that converting leads into customers is their most pressing priority.
The lead nurturing journey moves through a specific process of "Educate, Inform, Engage, and Convert":
Educate: During the initial stages of interaction with a lead, you'll be connecting with someone who doesn't know much about your brand or what you can potentially offer. This is your chance to show people what you're all about.
Inform: Through a carefully structured content plan, you can inform your leads with useful guides and emails that not only show them you're the right company to purchase from, but also help them make better decisions.
Engage: By sharing relevant content and maintaining a connection with your leads, you begin to turn leads into prospects who may be willing to purchase from you.
Convert: Here, you give your leads the chance to convert into a paying customer, by reminding them to call your sales team, linking to a product page, or encouraging them to buy.
Why Is Lead Nurturing Important?
Lead nurturing is a crucial part of the buying journey because most purchasing decisions aren't made within a split second. Customers, today more than ever, don't trust the companies selling to them. They want to make sure that they're making a good decision before they hand over their money. Lead nurturing is about showing your customers that they can trust you enough to make a purchase.

Image source: Datacaptive
The statistics speak for themselves. For instance:
The Different Types of Lead Nurturing Campaigns
Lead nurturing isn't a one-size-fits-all process. Just as there are many different types of customers, there is also countless lead nurturing programs intended to fit different needs and expectations. Before you start building your lead nurturing campaign, decide whether you need to design for engagement, education, activity, or a combination of all 3.
1. Engagement Programs
An engagement-based lead nurturing campaign works to help keep your leads engaged with your business, by giving then straight-forward and credible insights through content. There are plenty of ways that you can run an engagement campaign, including:
Welcome emails: A welcome email introduces your business and value propositions to leads that are still in the first stages of the buyer funnel. This campaign puts your business in a position to start building relationships.
Drip campaigns: These are strategies intended to keep your services and company at the top of your lead's mind. For instance, you might provide your would-be customers with emails about regular blog posts. These drip emails are a vital part of marketing automation.
Re-engagement campaigns: A re-engagement campaign reminds your lead what you can offer after a period without any interaction on action on their part.
2. Education Campaigns

Image source: Coinsquare
An education campaign, as the title would suggest, provides useful information and helps your leads to understand what you can offer with your service or product. Just like with your engagement strategy, there are a few different ways to approach an education campaign, such as:
Teaching campaigns: Teaching point of view campaigns are designed to provoke ideas and transform a lead's mindset about their current situation. It asks them to think differently about the issues they face, and the way they can address those problems.
Product-focused campaigns: These strategies are designed to provide leads with as much information as possible about what your business can offer. During this time, your messaging will need to address the pain points of your prospects and show how you can work with them to solve their issues.
Competitive drip campaigns: During a competitive drip campaign, you demonstrate how your product or service is better, or more effective than anything currently offered on the market.
3. Active Funnel Strategies
Finally, active funnel campaigns focus on the leads in your list that have already entered into the buyer journey. They're not ready to speak to a sales representative yet, but they are interested in what you have to sell. During these programs, you can use:
Lead introductory campaigns: A lead introductory campaign helps to highlight why a lead should consider reaching out to your sales team. It focuses on building strong, trusting relationships with your audience.
MQL campaigns: During an MQL campaign, you aim to increase your lead's desire to engage in a conversation with a salesperson. This is about turning your leads into qualified leads who are actively interested in making a purchase.
SQL campaigns: Finally, in the SQL process, you bring the salespeople into the sales process and start engaging in ongoing conversations with a lead who has become a prospect.
Best Practices for Your Lead Nurturing Strategy
No matter what kind of lead nurturing campaign you're running, it's important to have a strategy in place that will help you to make the most out of the leads you acquire and the prospects you convert. Here are just some of the things you can do to leverage a powerful lead nurturing strategy.
1. Know Your Goals
Before you begin any business campaign, lead nurturing or otherwise, it's important to know what you're trying to achieve. Without clear goals, it's impossible to define whether you've been successful or not. Goals can be as simple, or as complicated as you like, but it's best to follow the S.M.A.R.T formula. This means that your goals should be:
Specific
Measurable
Attainable
Relevant
Timely
Once you have your goals in mind, you can put systems in place to continuously test your lead nurturing strategies and discover what works best with your target audience.
2. Segment Your Audience
Understanding exactly who you're trying to reach with your lead nurturing campaigns is a huge advantage. If you already have buyer personas, then this will help. If you haven't created your personas already, then you may need to research your target audience before you start.

Image source: Trailhead
51% of email marketers believe that email list segmentation is the best way to improve their lead nurturing. Since every lead is different, and many will be in specific stages of the buying cycle, it's important to segment your audience to get the best results. You can segment by:
Position in the sales funnel
Job title
Age
Interests
Location
Segmentation helps to ensure that the information you send to your buyers is as relevant and meaningful as possible
3. Personalize Each Campaign
Once you have your audience segments, you can begin to personalize the content you deliver. Targeting audiences with content that's relevant to their position in the buying process can boost your conversion rates by 72%.
Remember that your lead nurturing emails should never be simply blasted out in a "one-size-fits-all" formula. Today's customers want to feel as though every message is tailor-made for them. Personalizing the process helps to develop the relationships that help potential prospects to trust you and your business. You can personalize by:
Using the information, you know about each segment to target specific groups
Adding first names to the top of your emails
Incorporating information about your lead's location or company
4. Create Relevant Content around Customer Pain Points
According to a studies into marketing and lead nurturing, around 70% of today's companies are producing more content today than they were in the past. The reason that content is so popular is that it helps to strengthen your connections with your audience and provide them with the information they need to make a purchase.

Image source: Riskafrica
Since the web today has empowered customers to qualify themselves by looking at reviews and finding additional information about products, it makes sense to make the process easier for them. Find out which questions are stopping your leads from buying by reading their testimonials, speaking to your sales team, or issuing surveys. Answering your leads' most pressing questions will help them to make more confident choices about purchasing from you.
5. Know When to Send Emails
One of the biggest mistakes that companies make when it comes to lead nurturing is convincing themselves that they need to connect with their clients every day. While this might be a great way to keep yourself top of mind with your target audience, it can also lead to annoyance and frustration.
Instead of constantly sending messages, set up a lead nurturing schedule that keeps you connected with your potential prospects, while still giving them time to themselves. You can measure the performance of your emails by tracking metrics like open-rate, click-through rate, and conversions to see which times and days leverage the best response.
6. Don't Rely Purely on Email
Importantly, while email tends to be one of the easiest ways to nurture leads and measure the responses that you get, there are plenty of other ways to connect with possible customers too. For instance, social media is quickly becoming one of the best ways for any company to maintain and build a relationship with their fans.
Although social media might not replace email lead nurturing entirely, it gives you another mode of engagement that you can use to gather information about what your customers need from you and your brand. Consider using social media to:
Answer customer questions instantly and respond to problems
Track trending topics and hashtags for content inspiration
Engage audiences in polls, surveys, and competitions
Leveraging the Power of Lead Nurturing
Ultimately, no matter what kind of business you run, or what kind of product you're trying to sell, the right lead nurturing strategy can have a profound and substantial impact on your success. Of course, like anything else in business – it's going to take work.
Using the tips and information above, build a lead nurturing system that will help to you to connect with, and inspire your audience. Eventually, you'll find that you end up with a constant stream of qualified leads, ready to become loyal customers.
{{cta('301aad28-b5bb-43b0-baca-0bdfb9c645ed','justifycenter')}}