In digital marketing, there is a huge emphasis on having the ability to track everything that is happening with your brand online. With a lot of tools now available for data analytics and reporting, people are able to see more and more metrics with every new tool that they use, for measuring success of marketing
It can become too much though, and often people are losing sight of the metrics that actually matter.
So how to you start measuring success of marketing?
When creating your digital strategy, it is important first to establish how you are planning on measuring success. This is a crucial step, no matter how few, or many, stakeholders there are. Whether you're an entrepreneur, or a digital agency working for a client, setting tangible KPIs from the beginning will help track results.
Primary Objective
I'm assuming that the majority of those reading this article fall into one of three categories:
Entrepreneurs marketing their own businesses
Marketing professionals working in a marketing department of a company, or
Agency-side marketers reporting to client.
In any case, a good first question ask yourself, your boss, your client, before you start your marketing efforts, is "what would call this engagement a success to you?". Don't overthink it. You must have had a motivation to start this marketing endeavor, and clients that engage with agencies often have underlying pain-point or goal that they are trying to reach. Try to establish one single top-level objective. This one answer could be something like:
I want to get a consistent flow of leads, so I don't have to always go out there and sell.
I want my e-commerce site to bring in 10 new, loyal customers, every month.
I want recognition as a though-leader in my industry.
I want my new innovative product to go viral.
Success Hierarchy
This will allow you to create the tip of what I like to call the success hierarchy. Imagine a triangle where the top is the primary success indicator we identified. Underneath that, you can create layers of indicators, which naturally flow down form the top.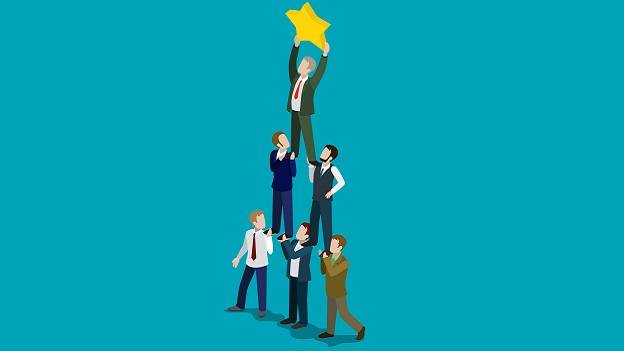 Image source: People Matters
What do you notice about the metrics and KPIs as you go from top to bottom?
They go from plain and simple English, to marketing jargon
They go from tangible metrics, to "vanity" metrics
They go from ROI-centric to marketing-centric
To sum it up, a person that has invested interested in the business, will care more about the top of that hierarchy.
Now that you have your success hierarchy, you know what you need to look at the most often. You know what your boss or client will pay the most attention to, and what is an added 'bonus' to them.
Don't get me wrong. The metrics at the bottom of the hierarchy are still very important in their own right. They do contribute to broader success. When you are not reaching the primary KPIs, then these are often clues to where the problem lies. and this allows us to optimize our campaigns over time.
Goals. Goals. Goals.
You hear this world a lot in the digital marketing space, and there is good reason for that. Setting proper goals is key to determining effectiveness of your digital marketing strategy. If you're a marketing agency, or an in-house marketing manager, this will allow you to progressively report on mini-milestones, so you can demonstrate positive results over time. It also keeps people positive and focused over a long period of time, as the marketing 'marathon' is broken down into shorter races, which keeps a sense of momentum.
One thing to consider when goal-setting though, is the S.M.A.R.T acronym. This stands for Smart, Measurable, Attainable, Realistic, Time-frame. These five checkpoints for all goals that you set, are self-explanatory, and VERY important. There's no point in putting goals like "I want to 10x my online sales as quick as possible in the first year of e-commerce launch". This is simply unrealistic.
Visibility
It's important to always keep those Key Indicators (the top half of that hierarchy triangle) as visible as possible, all the time. We have all been guilty at some point of obsessing over an insignificant part of the dashboard. We then lose sight of the bigger parts of the picture, such as Website Traffic, or Total Marketing ROI. More often than not, that is because the main indicators are not right there in our face all the time.
What I like to do is build a top-level dashboard, showing all the key stuff, and have it staring at me pretty much all the time. I have that dashboard on a big screen that I can see all the time. I do still have more in-depth reports that are auto-generated every month and emailed to a client as a PDF. These are still important for the in-depth stuff. But having your main success-metrics staring at your all the time helps a lot.
My tool of choice for this is Databox. I started using this tool because it had a free version, and a load of pre-built templates. There are also so many options for adding data connections from apps I already use, such as Hubspot, Xero, Shopify, Google Analytics, etc… . It's very intuitive, simple tool that allows me to create a branded dashboard for my clients in minutes. There are other tools out there that I'm sure are just as good, but this is the one that I choose to use.
Examples of Important Metrics
Here are a few ideas for metrics that you should consider top-level:
ROI
Revenue
Number of Customers
Cost-per-acquisition
Cost-per-click
Goal completion
Website Traffic (specifically new users)
Not just what to show, but how to show it
Once you have determined the key bits of data to place on your dashboard, you also need to decide what is the best visual representation. You can show data in many ways, including:
Line graphs
Bar graphs
Pie Charts
Ratios
Dials
Progress Bars
Ratios
Tables
And the list goes on…
Data shown in a clean, visual way that shows progression to the viewer, will help to communicate success.
In summary
When you're looking back at the success of your digital marketing campaigns, it is important to be open to discussion about what goals you achieved, and which could be improved upon. Getting everything started and bringing in positive results takes a certain level of marketing skill, but the REALLY good marketers are the ones that look at something that didn't work that well, and completely turn it around after finding clues in the data they have gathered over time. Don't be afraid to admit to yourself and to others that you made an error in judgement. Learn from mistakes, and from the data, and keeping look at the top of that success hierarchy.