If you're seeking an effective way to engage with your customers and reach more people, video content marketing is one of the most powerful tools you can use. 
According to Cisco, by 2019 video will account for over 80% of all web traffic. These 5 tips will help you get the best possible results from your videos.
1. Hook Viewers Right Away
If you don't grab viewers' attention within the first few seconds of your video, you'll lose them forever. One trick to keep in mind is to attract your audience before they even start your video, with the thumbnail.
This is the static image they see before they decide whether or not to play your video. Choosing a compelling custom thumbnail can help you get more views.
Then, be sure to start the video with a catchy statement or question that arouses people's curiosity. 

Image source: Animoto
2. Tell a Compelling Story
While your goal is to get more traffic, leads, or up-sell / cross-sell to your existing customers, avoid the temptation to make your videos into mini TV commercials. This approach is not going to get people to watch your videos and subscribe to your channel.
Rather, find a way to tell an interesting story about your business or product. There are now many video marketing tools that help you do this by adding interesting images, sound clips, and effects. However, it's still up to you to come up with a story that compels viewers to watch.
Focus on your customers' interests, problems, and concerns and address these in your videos. For example, create a how-to video that explains how to build, cook, fix, or remodel something.
You can focus on getting people interested in your business at the end, with the call-to-action. Before that, keep your attention on the viewer and his or her concerns.
3. Add a Strong Call-to-Action
As we've noted, the best videos tell interesting stories and don't try to hard sell viewers. Engaging through education, comedy and value is key to having amazing video content that really delivers return on investment for your business.
It's still important, though, to make sure people don't just watch your video and then click away and forget about it. That's why you need a clear call-to-action (CTA) at the end.
On YouTube, you should include a CTA in your video description as well as the video itself. In the description, you can insert a URL that becomes a clickable link.
YouTube Cards provide an eye-catching way to add a CTA to your videos. Some video players and platforms let you add a clickable CTA button right in the video. Ultimately, don't forget that the CTA enables the viewer to actually visit your landing page, website or social media channels for you build a relationship with them.
Even for videos that will be distributed offline (for example, at exhibitions, events etc), have a CTA such as:
Visit our website today
Follow us on Social Media
Contact one of our consultants today
Visit your nearest store / branch etc 

 
4. Integrate Videos With the Rest of Your Inbound Marketing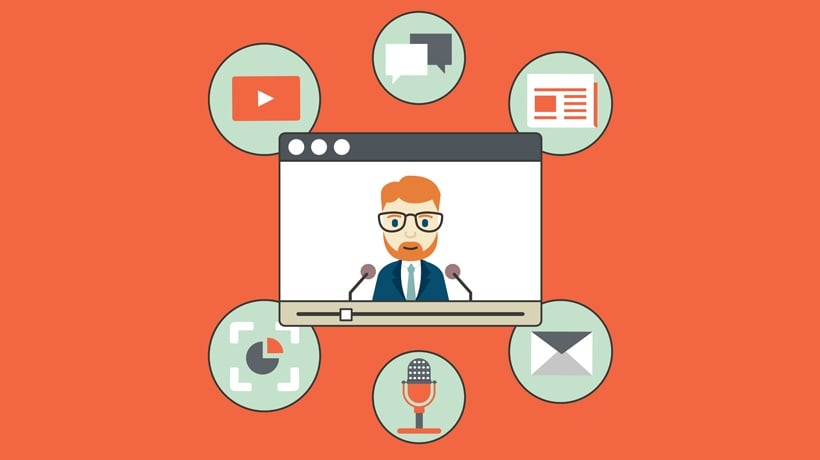 Image source: eLearning Industry
As powerful as videos are, they work even better when you connect them with your overall inbound marketing strategy. You can use social media and email to send people to your videos. Your videos, in turn, should send traffic to your website, sales page, or opt-in form.
To get the most leverage from all your videos, share them as widely as possible. You can upload the same video to your website, YouTube, Facebook and any other sites you use. You can link to videos in even more places, such as emails and blog posts also.
At React, we always recommend that you have three absolutely critical elements as part of your marketing and sales strategy:
If you have ever wondered what should be the messaging in your video, or what the call-to-action should be, and finally, if the video is actually nurturing your prospects and leads into sales, the above three steps will deliver this clarity for you.
5. Make Sure Your Videos are Mobile-Friendly
More and more viewers are watching videos on smartphones and tablets. This means you have to make sure your videos are mobile-friendly. Keep in mind that YouTube has a special app and mobile website. Here are a few guidelines to make sure your videos are mobile-friendly.

Image source: Tech Funnel
Keep your videos short. People on smartphones are easily distracted by things like texts and chat messages so the longer your video is, the less likely people will watch it till the end.
Vertical videos, which are getting more popular on social media sites, are much easier to watch on smartphones. 
Make text large and readable. Zoom-in on important text, such as your business name and URL. You want to ensure that viewers on mobile devices can read it. 
Use high-quality audio. Unless people are using good headphones, audio can be difficult to hear on smaller devices. Remember also that they may be watching in noisy public places. 
Test your videos on mobile devices. Always be sure to watch your own videos on mobile devices so you can ascertain that they're mobile-friendly.
Use captions! Facebook has documented that videos with captions increases engagement by up-to 29% – many of us don't like to disturb others around us when we watch videos (or maybe you don't want them to know what you are watching!)
These tips will help you get more views and engagement from your videos. There's no better way to connect with your audience than video content marketing.
At the same time, with so much competition, it's essential to make your videos as unique and compelling as possible. React offers targeted and effective inbound marketing and video production. For more information, contact us.